Buy Tyres Online - How It Works
Buying tyres and garage services in three simple steps
Step 1
Find Your Tyres
Use your registration number or your tyre size to search our stock for the right tyre for your car, 4x4 or SUV. We have access to a vast stock of budget, mid-range and premium tyres.
Step 2
Additional Services
Once you've added your tyres to your shopping basket you can add any of our additional services.
Step 3
Checkout
Choose your fitting date/time and confirm your contact details and you're done. You only pay when the work is done and you're happy with it.
RIBBLE VALLEY TYRE & AUTOS LIMITED
RIBBLE VALLEY TYRE & AUTOS LIMITED is a local tyre supply and fitting centre serving Preston and the surrounding areas.
Here at Ribble Valley Tyre & Autos LTD we offer a personal service and local knowledge along with an excellent range of tyre brands to suit all pockets and vehicles.
You only pay when we have fitted the tyres to your vehicle – we don't take payments upfront, when you are happy that the tyres are fitted to your vehicle, we will take payment at our garage.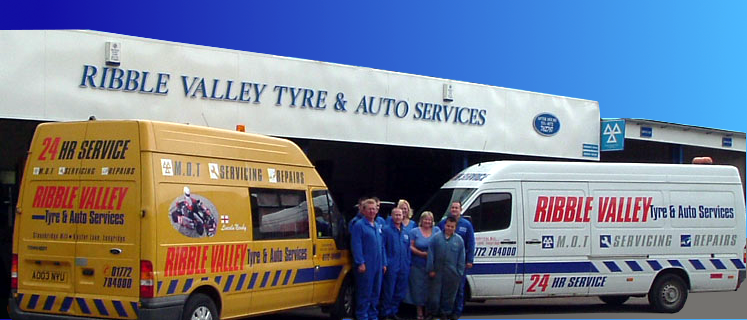 We are the sole and exclusive supplier of Falken Tyres in Preston.
We have tyres to suit every one of our customer's needs, if you need some help or advice, please contact us and we will be happy to help you choose the right tyre for your vehicle.
The Falken Tyre Europe GmbH is the European affiliate of the Japanese tyre manufacturer Sumitomo Rubber Industries Ltd.
With about 33,000 employees the Fifth largest tyre manufacturer worldwide. From its location in Offenbach/Main, the company markets and sells a complete tyre portfolio for passenger cars, light trucks, trucks, pick-ups and SUVs as original equipment and for the entire European retrofitting market.
All Falken products comply with the ISO 9001, ISO/TS 16949 and ISO14001. Developed and tested in the world's most demanding racing series, the Falken tyres provide the maximum of individual driving enjoyment.
The Falken brand is involved in exciting and high technology platforms such as Motorsports with a Porsche 911 GT3 R and BWM M6 GT3, Red Bull Air Race, and AUDI Sportpark based Bundesliga club FC Ingolstadt 04.
Tyre Brands we offer
RIBBLE VALLEY TYRE & AUTOS LIMITED prides ourselves on offering you the best range of tyre brands and we stock all of the major premium brands, along with some quality tyres from brands such as Falken:
Bridgestone tyres, Continental tyres, Dunlop tyres, Falken tyres,
Goodyear tyres, Michelin tyres, Pirelli tyres.
Choosing the right tyre
Every tyre will have the tyre label ratings shown so you can see how the tyre performs in the wet, the rolling resistance and the noise rating (noise in decibels) to help you understand how well the tyres will perform to your needs.
Are your tyres important?
Tyres are the only part of your vehicle that link you and your car to the road, so having the right amount of tread depth on your tyres is vital.
The legal limit of a tyre tread depth is 1.6mm. The less tread you have on your tyres, the longer your stopping distance is… bare that in mind when you're driving.
The tyres on your car will wear quicker the less tread depth you have, so it's really important you check them regularly so you remain safe on the road.
Repairs
Making sure your vehicle is in top condition. Start by using our online booking form.
Servicing
We offer a choice of essential car care services with full and interim servicing.
What our customers think
"Service was excellent and next day service. Thank you "
"Great service booked online, tyres were there ready and waiting to go even at 08:30 on the day. As I needed all 4 tyres changing was able to leave the car to pick up at my convenience and it was ready at the time stated no messing around "